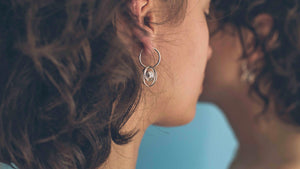 KALMA
---
Kalma is a collection of carefully designed jewellery which improves your ability to tolerate stress using its sensory properties. It is designed as an object of focus to help you ground yourself in the present moment for greater balance and a calm mind. Balancing its sculptural aesthetics and strong sensory appeal with sustainable design and materials, this silver collection is the perfect choice for those in search of serenity.
Kalma is designed to help you manage stress and enhance your overall well-being. Invite peace and balance into your day by engaging your senses; gently explore and bring compassionate awareness to these unique pieces of jewellery.
The collection consists of 5 pieces: earrings, a ring, a bracelet, a pendant and an object. Each piece of jewellery comes with a guided mindfulness meditation, which will teach you how to use the piece in order to find your own calm. All Kalma jewellery is designed and made to last using sustainable and ethical methods and materials. Made in the EU.
 The project is co-financed by the Republic of Slovenia and the European Union.
---