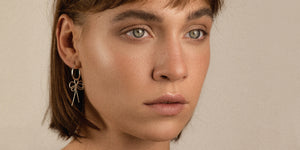 AERA COLLECTION
---
The beginning of the Aera Collection was a quick sketch of an insect– a continuous line drawing I made during my architectural studies. It first came to life as a textile brooch, when three-dimensional object was achieved by knitting a single thread. It has since become a recognisable piece of my collections and a medium for exploring materials and making techniques as well as visual effects.
Aera Jewellery Collection is the continuation of the experimentation process and for the first time made in metal. An aery and light form of the insect is translated into delicate silver pieces – detailed and made using 3d printing technology.
The joyful movement of the Aera pieces is a reminder of the positivity and the fun that every day brings.
---